Today, music marketing requires a multi-pronged approach to ensure increased sales, followers and a buzz around your brand. Today's music labels won't even consider signing an artist without an established audience on social media. Landing pages help artists create effective marketing strategies to promote and sell music efficiently. Use intelligent and interactive ways to collect fans with Tuneer.net artist landing page generator.
Why use landing page?
Did you noticed 80% of your listeners will never come back? Landing page is an effective tool to save money on ads and transform listeners into loyal fans with DIRECT notifications. A high converting landing page by Tuneer.net will help you convert listeners into loyal fans with direct notification marketing through smartphones, insta-messaging apps like Facebook Messenger and Telegram, email and web platforms which is much more effective. Notify your audience about new music releases, share YouTube videos, audio, reward active fans for following, organize secret shows and communicate with loyal fans using insta-messaging apps. Why insta-messaging apps? Because people love it and use it every day to talk to friends and family and probably to your brand.
Build "fan" funnel
If you're in business, you probably already heard about sales funnels. A sales funnel is a marketing system which illustrates the theoretical customer journey towards the purchase of a product or service. However, instead of sales funnels, lets think of it as a fan or relationship funnel when talking about music.
Use Google Trends to research potential audience
How old is my fan base? Are they mostly male or female? What country do they live in? What is their age demographic? What music do they listen to?
How to set up landing page?
By default, you will be redirected to setup landing page after sign up. If you skipped some steps or want to edit information you can go to Landing page setup from your account dashboard. You will be asked to enter artist name, upload profile picture & set default greetings message. To add your Spotify, Youtube or any other available platforms, go to Account details from artist dashboard.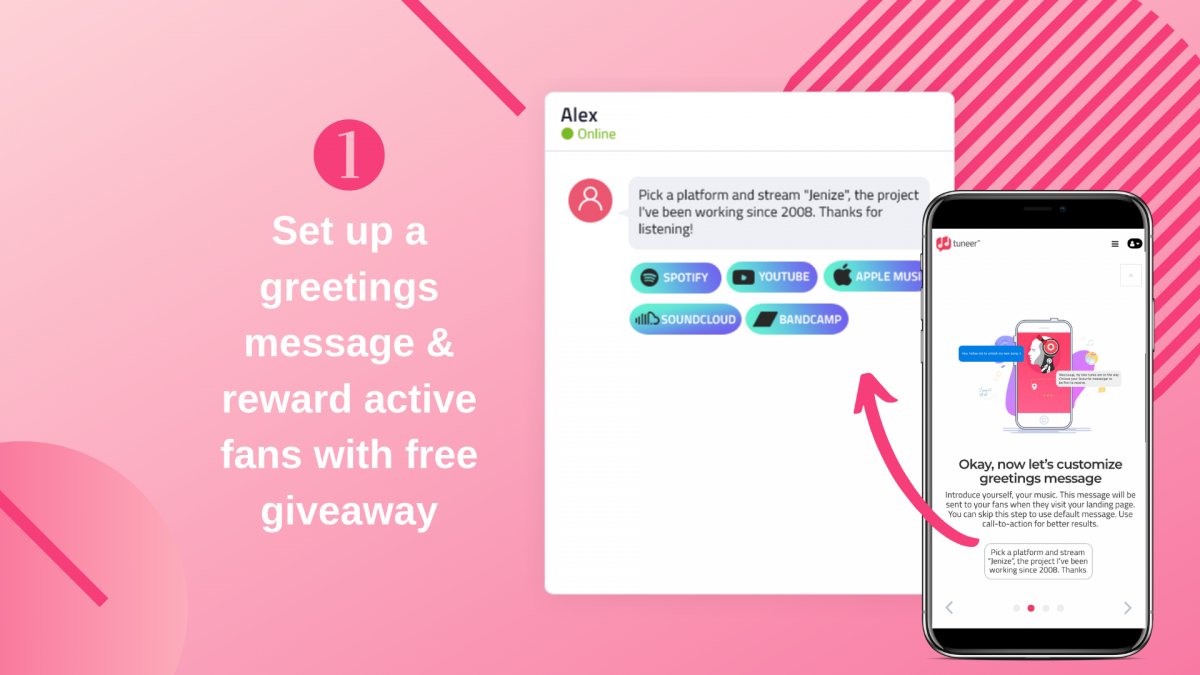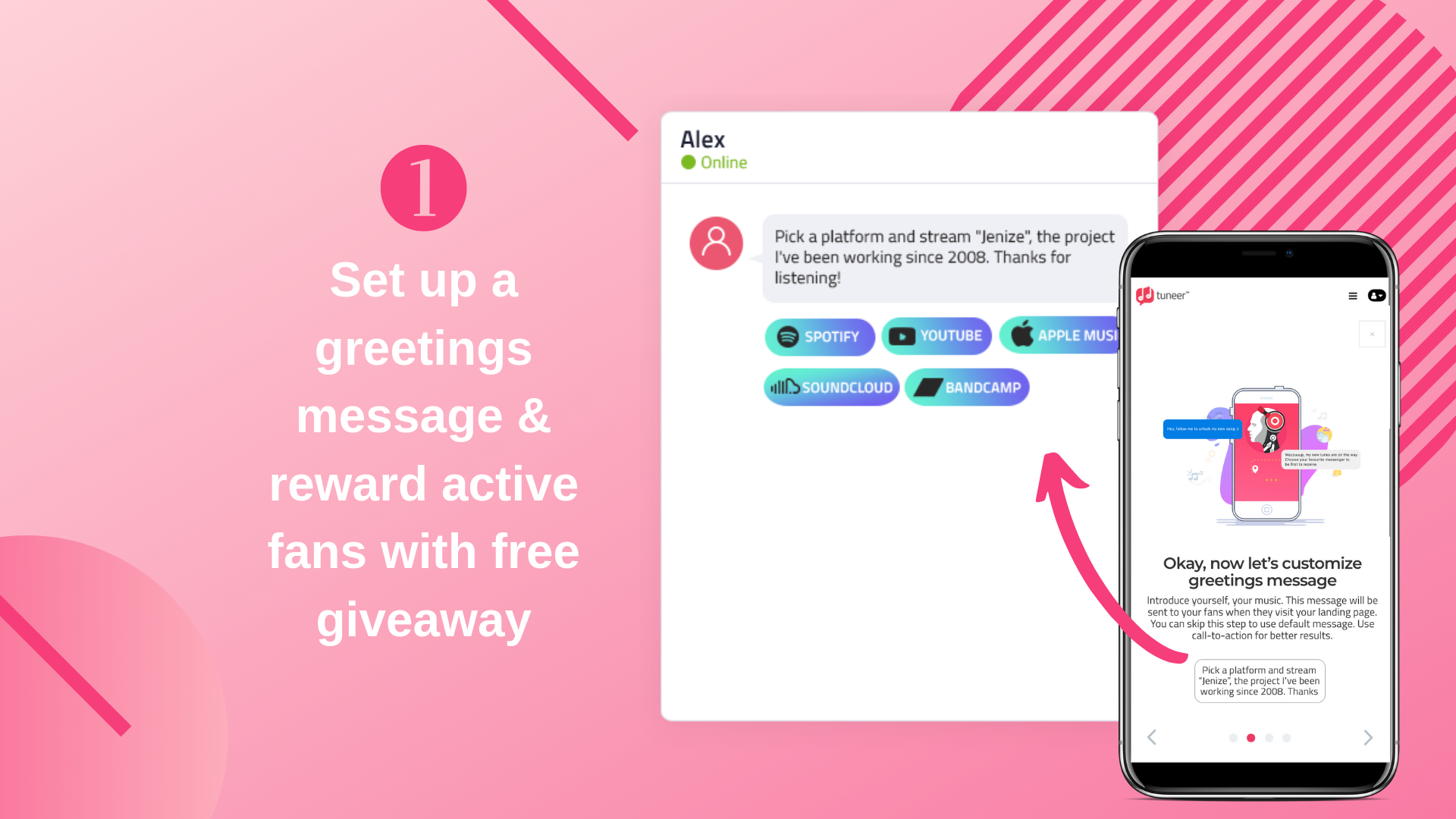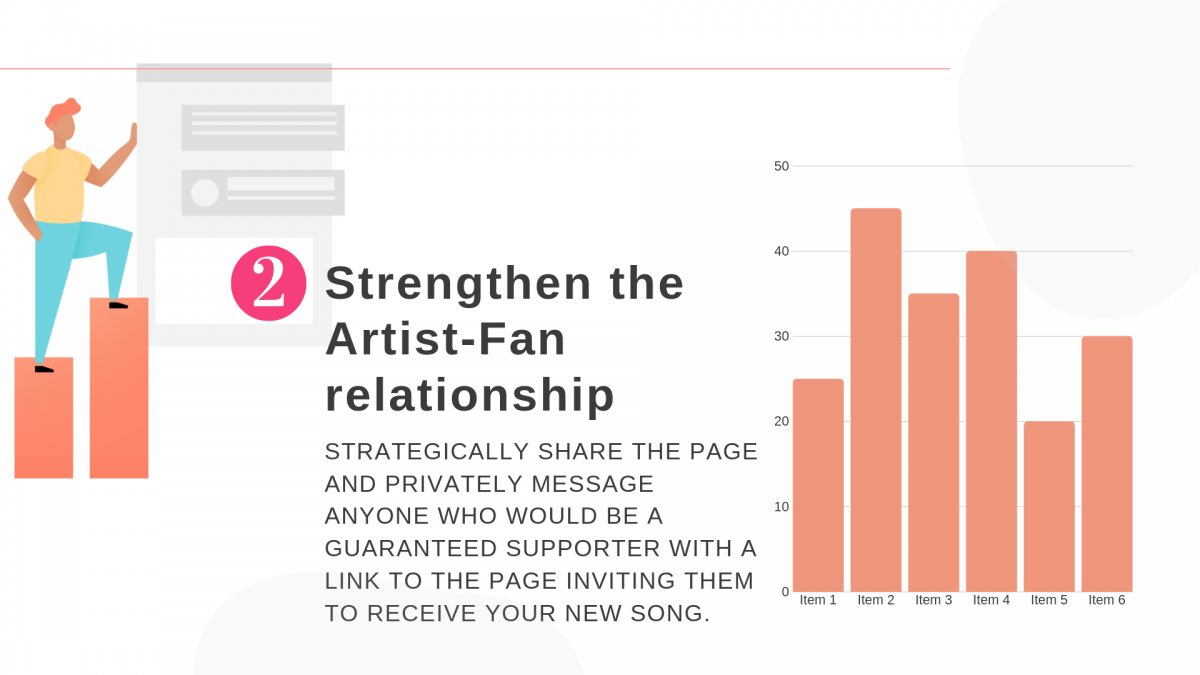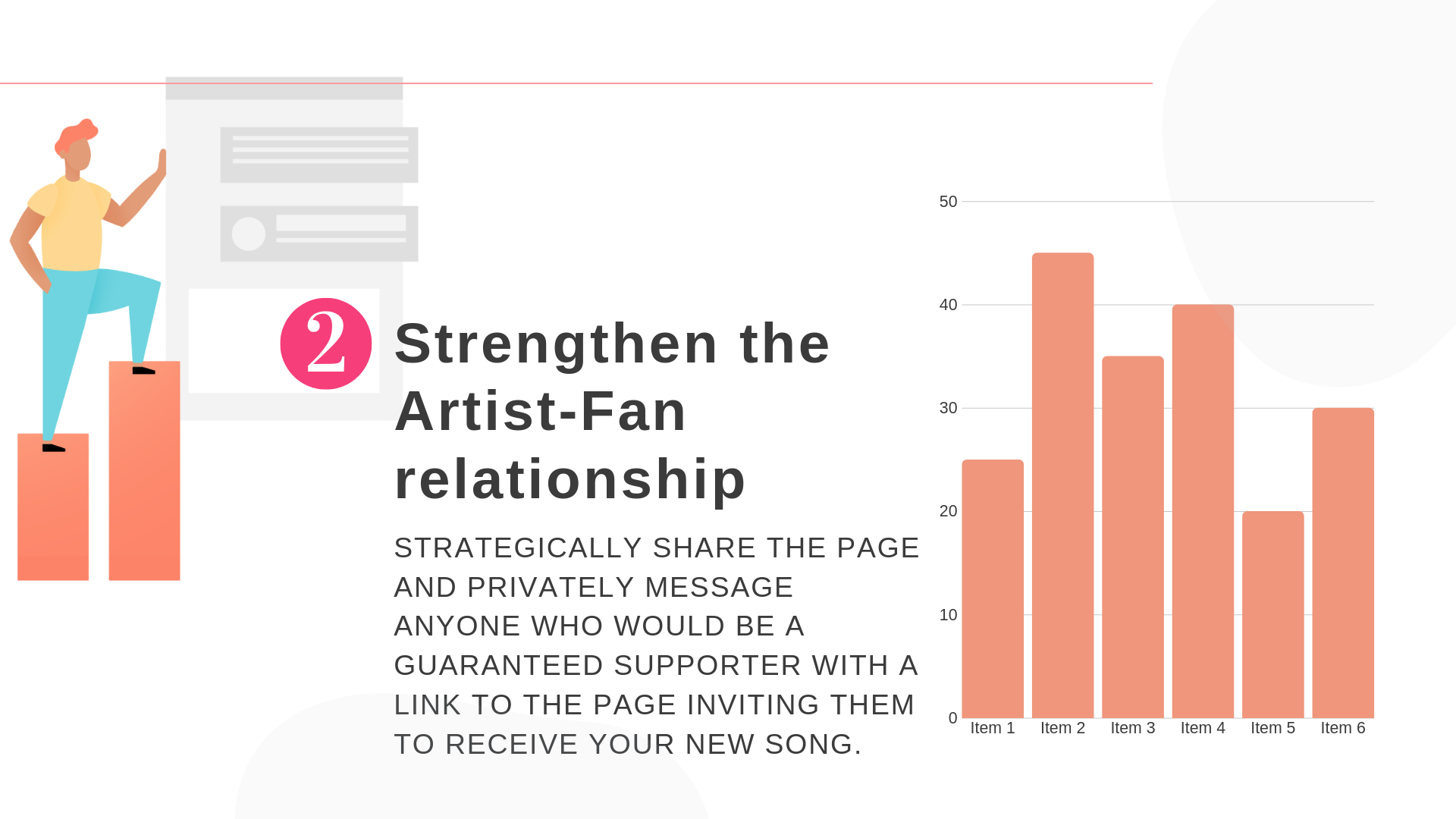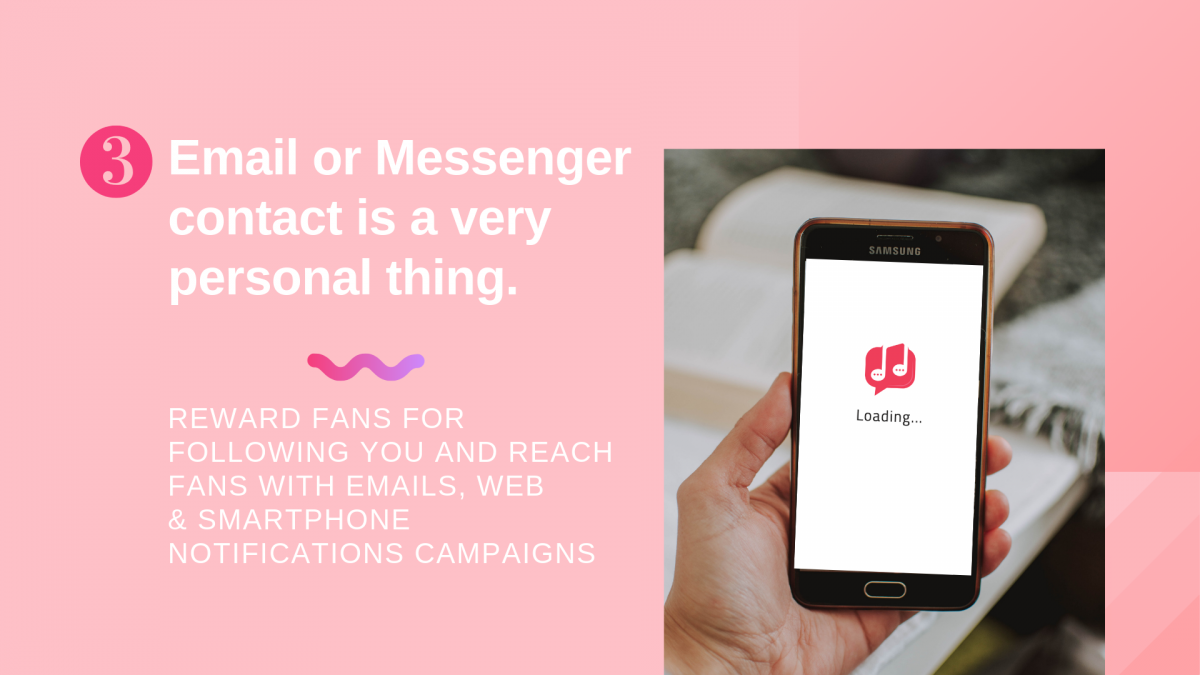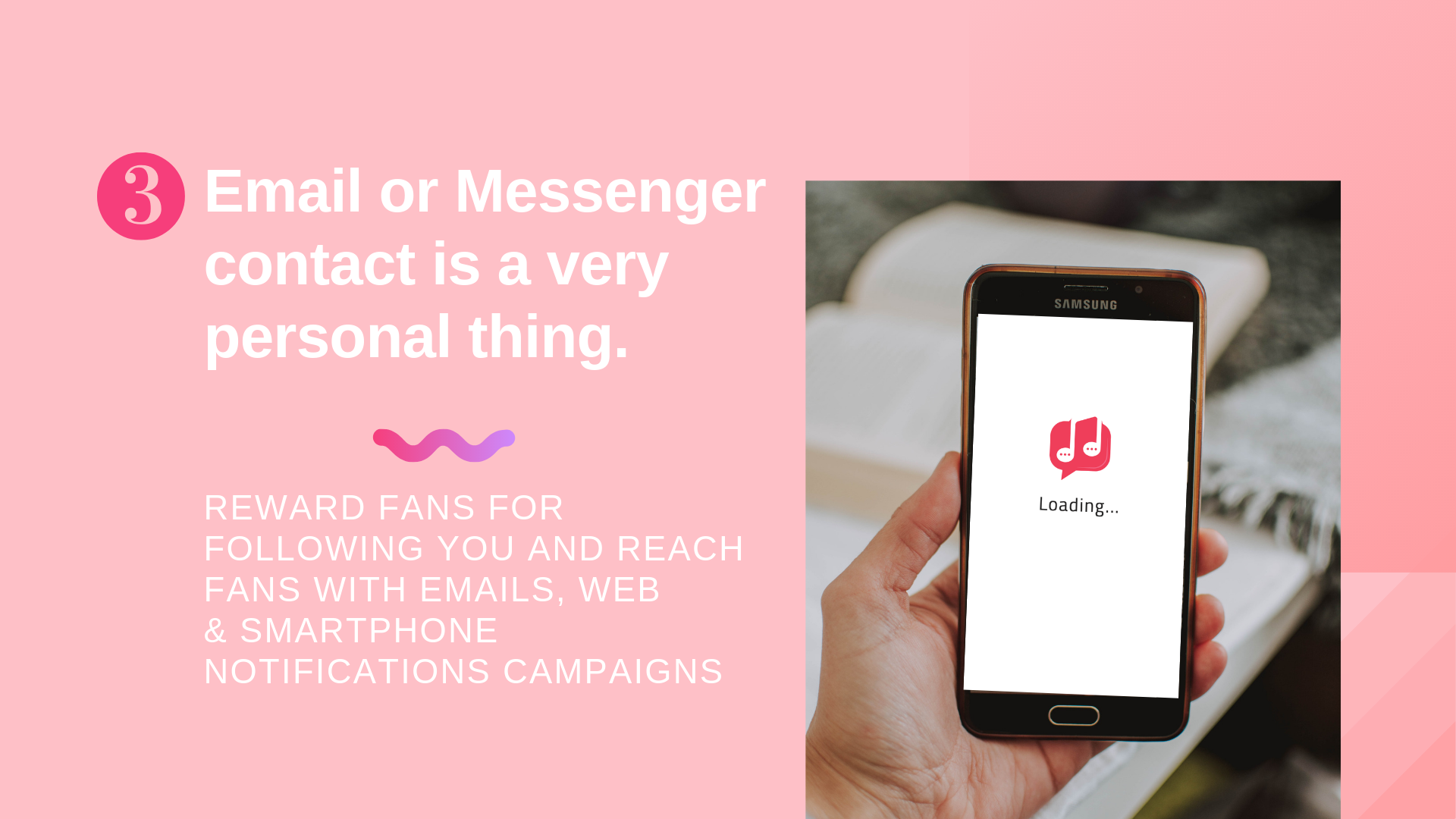 Strategically share your landing page on social media
The best way to start building an audience is to share your smart landing page on your social media. You could also strategically share the page on other people's timelines or privately message anyone who would be a guaranteed supporter with a link to the page inviting them to receive your new song. You can do this by clicking the 'Add more fans' button in your Tuneer artist dashboard.
Focus on a call to action
A "call to action" is a line that basically says, "do this now." If you don't tell people what to do, they won't click on your ad. An example of a call –to-action would be, "Get a free music by the Westside Boyz". Encourage people to click on your ad. It's hard to believe but people are more responsive if you ask them to visit your landing page. People love rewards and you're going to reward them with free music in exchange for following you on any of messaging apps.
Go 'Behind the scenes'
Share demo content and collect feedback. Uploading audio content regularly is a sure fire way to build an audience. Share your work in progress recordings before releasing it on Spotify, and take opinions from your fanbase for the demo music. They'll get the same level of treatment as your more professional productions, but you have a great opportunity to network with your followers. Those tracks make your fans feel like they're part of something special.
All music links in one place
Send direct notifications to fans when you release new single on music video. Supported platforms: Spotify, YouTube, Bandcamp, Soundcloud, Apple Music and 20+ more.
Promote upcoming gigs
Notify your fans when you have a gig in their town.
Inspire!
Regular messaging to your fans is a quick, easy way to keep your fans active when other content broadcasts are not available. Send broadcast messages to connect with your fans by asking them questions. Mix some personal stories in with your music-related announcements and updates. But don't overuse it! Sending too much notifications will definitely annoy your fans and most of subscribers will mute notifications from you.